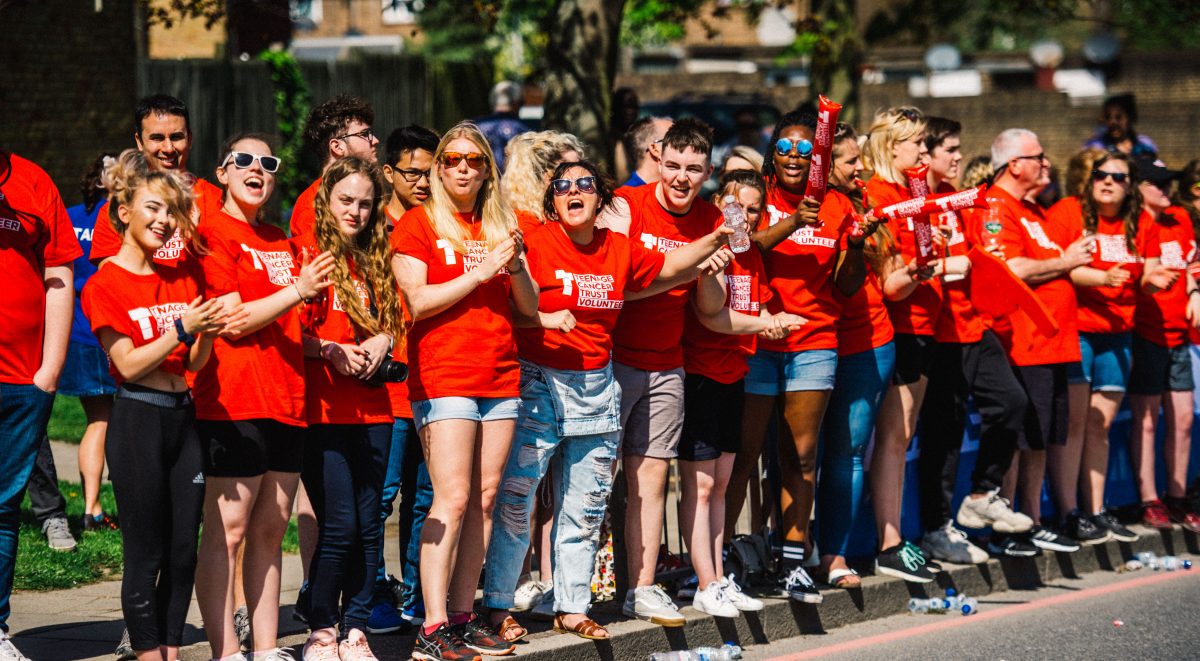 Volunteers from our Volunteer Team and Club Network come together to support Teenage Cancer Trust at the London Marathon
Over the last few months, EBGC has been busy building a new partnership with Teenage Cancer Trust.
The London Marathon is one of the biggest events of the year and Teenage Cancer Trust has been assigned to assist in the running of the event. Teenage Cancer Trust offered EBGC to bring along 30 volunteers from Essex to help with one of their Cheer Points along the 26 miles. We offered one of our partners, Essex Youth Service a few spaces in which 4 young people came to join us as well as 2 members of their staff.
EBGC were assigned to Mile 3 in Woolwich. It was a 06:30 am start, to be there in time for the start of the elite races.We arrived in Woolwich in perfect time and walked underneath the Thames using the Woolwich Tunnel so that we could walk to our base for the day.
The volunteers were really keen to get started. While armed with a megaphone, bang sticks and whistles they were soon making their presence known. Luckily, as we arrived the elite races had only just started so everyone picked up the volume and cheered them on from the side lines. The races started off with elite wheelchair racers and finishing off with Mo Farah, the elite men and then followed by thousands of runners.
The atmosphere was amazing with everyone cheering and enjoying themselves. Every time a Teenage Cancer Trust runner came past the volunteers would cheer them along.
It was a brilliant day. Everyone enjoyed themselves and the weather was perfect!! A big Well Done to all the runners who took part especially as it was the hottest London Marathon on record.
Many thanks to all the volunteers who came to support Teenage Cancer Trust and also for Teenage Cancer Trust for allowing EBGC and Essex Youth Service to be able to offer this amazing opportunity to our volunteers!!